Reading Information Evening for Parents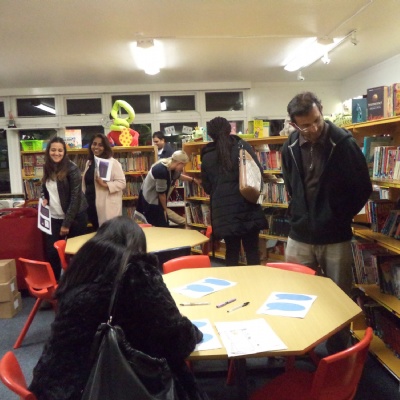 On Tuesday 1st November, we held a reading information evening for parents. The purpose of the evening was to share with parents some different strategies we use at school to support children in developing their reading proficiency and for parents to be able to use those strategies at home.
Mrs Heath talked about the different layers of understanding we can get from a text, with a particular focus on inferential comprehension, using the beautifully written and illustrated book, 'The Whale's Song'.
Ms Callaghan explained to parents the process of reciprocal reading. Parents participated in a reading session using an excerpt from the wonderfully descriptive text, 'The Arabian Nights', where they worked on predicting, clarifying, questioning and summarising skills.
Miss Moore led our final workshop, showing parents how to do paired reading at home with their child. She also introduced parents to our school library and the wonderful range of interesting, exciting and informative books we have available for borrowing.
Thank you to all the parents who attended the session and joined in with the activities so readily – the teachers really appreciated your participation. Thank you also for the really positive feedback we received – It was great to know that you found the sessions both enjoyable and informative.
Here are some of our parents feedback :
"Taking part has really made it easier for me to understand what I need to get out of my child when she is reading."
"This has been a very informative session. The session has drawn my attention to reading being approached in a holistic way rather than simply being able to pronouce the words. Thank you!"
"Great Fun, informative and really good insight about reading!"
"Really enjoyed putting myself in my child's shoes."
"We enjoyed the interactve reading session and learning about why it is important for children to learn more than words."
"very useful session. I learnt different ways of getting children invloved in reading, especially when my education isn't from this county. Well done!"
"Found the evening useful - especially pointers on how to engage with reading. I normally just sit and listen.!"